Welcome to Aríel's Bed & Breakfast
Your stay at Aríel's offers much more than a relaxing night's rest. You will want to tour the property and visit Ariel the Icelandic horse and the other residents of the barnyard.
Aríel's Bed & Breakfast is located only 1½ miles from the Chautauqua Institution. Aríel's is a welcome haven for Chautauqua program enthusiasts, sight seers, skiers, fishers, quilters and knitters.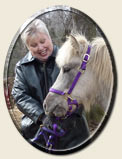 Margo Stuart, proprietor of Aríel's Bed & Breakfast, has breathed new life into the former Stuart Manor Bed & Breakfast and yet follows in her mother's steps, providing her guests a comfortable room and a gourmet hot breakfast. To relax you can visit the enchanting Icelandic horses that live on the property or simply "rock" on the porch and enjoy the fresh lake air and quiet atmosphere.
Please take time to view the pages in this website that describe the house, guest rooms, and Margo's special touches that will make your stay Aríel's Bed & Breakfast a memorable experience. Also be sure to look over some of Margo's recipes to see the gourmet treats in store for you when you are her guest.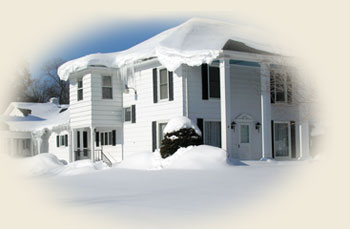 Guests are encouraged to invite family and friends for breakfast, not staying at Aríel's, to join you for breakfast (there will be a small fee per person). While dining you will watch the Icelandic horses, Hela and Kedja (pronounced keth-ee-yah) enjoy the beauty of the day.